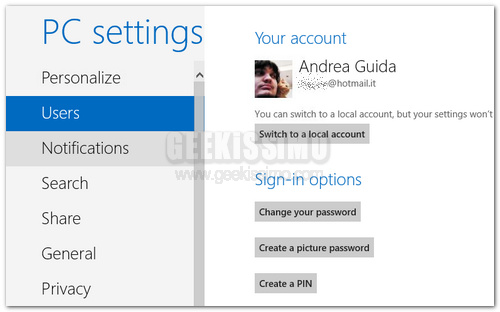 Durante il processo post-installazione, Windows 8 Consumer Preview consiglia all'utente di creare un account utente collegato al proprio account Windows Live. Questo permette di avere gli stessi dati di accesso in più postazioni di lavoro e di sincronizzare impostazioni, preferenze e Metro Apps su più computer senza dover muovere un dito.
In realtà diversi utenti hanno associato il proprio account Windows Live all'account utente di Windows 8 semplicemente perché non si sono accorti della possibilità di creare un normale account in locale (viene visualizzata una scritta minuscola in basso!), ma per fortuna c'è la possibilità di rimediare e tornare indietro. Se anche voi siete tra questi, ecco tutti i passaggi necessari a scollegare un account Live dall'account utente in Windows 8 Consumer Preview.
Posizionare il puntatore del mouse nell'angolo in alto o in basso a destra dello schermo per far comparire la Charms Bar e cliccare sull'icona Settings;
Cliccare sulla voce More PC settings, in basso a destra nella barra laterale che compare, per accedere al Pannello di Controllo di Windows 8;
Selezionare la voce Users dalla barra laterale presente nella parte sinistra dello schermo;
Cliccare sul pulsante Switch to a local account;
Digitare la password del proprio account Live e cliccare sul pulsante Next;
Compilare il modulo per la creazione di un account locale scegliendo nome utente, password e suggerimento per la password e cliccare sul pulsante Next;
Cliccare sul pulsante Sign out and finish.
A questo punto, sarete rimandati alla schermata di login di Windows 8 dalla quale potrete effettuare l'accesso al sistema con il vostro account solo in locale. L'immagine dell'account Live sarà trasferita in automatico a quello locale.
Nel caso in cui qualcuno desideri tornare indietro, è possibile associare nuovamente il proprio account utente di Windows 8 con un account Windows Live tornando in Settings > More PC settings > Users e cliccando sul pulsante Switch to a Microsoft account. Seguite la procedura guidata per l'autenticazione e il gioco è fatto.
[Via | Trouble Fixers]