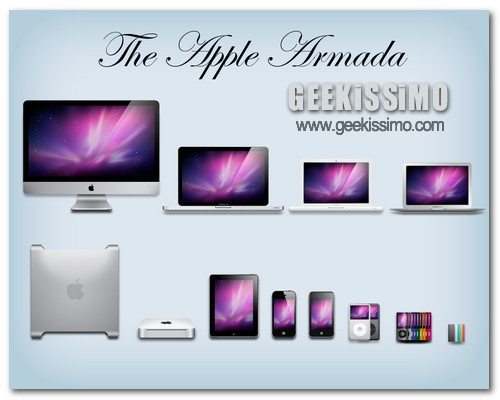 Dei prodotti
Apple
si può dire tutto e il contrario di tutto, tranne che non siano belli da vedere. Eccoci allora pronti a proporvi una splendida collezione di icone che li riguarda:
The Apple Armada Icons
.
In
The Apple Armada Icons
possiamo trovare oltre 20 curatissime
icone gratis
dedicate a tutti i prodotti di punta della casa della mela: dal chiacchieratissimo
iPhone 4
ad
iPad
, passando per i iMac, Mac Pro, Mac Mini, MacBook, MacBook Pro, MacBook Air e iPod Classic/Touch/Nano/Shuffle. Non ci sono i nuovi iPod presentati l'altro giorno da
Jobs
, ma diremmo che per ora non possiamo lamentarci.
Le
icone
raggiungono una risoluzione massima di 512×512 pixel e sono disponibili in tutti i principali formati: PNG per Linux e siti Web, ICO per Windows e ICNS per Mac OS X. Per installarle, dunque, non bisogna "smanettare" su nessuno dei sistemi operativi menzionati.
Ciò detto, non ci resta che augurarvi un buon download (il peso del set è di quasi 15 MB) e invitarvi a dare uno sguardo alle anteprime di tutte le icone contenute in The Apple Armada Icons. Questa la pagina per scaricare il "pack", sotto le immagini. Divertitevi!